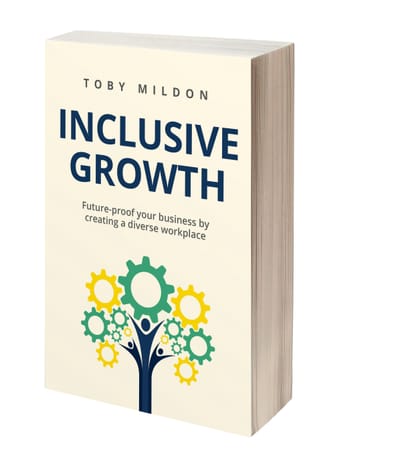 Inclusive Growth provides a practical framework that enables you to deliver a sustainable, diverse and inclusive workplace which allows your organisation to grow. You will understand how to:
Strategically align diversity and inclusion to organisational growth
Change the culture and motivate senior leaders to 'walk the talk' for inclusivity
Design and implement a sustainable inclusivity infrastructure
Work as a whole organisation rather than in HR isolation
Celebrate your inclusivity to become an employer of choice in your industry
BOOK PRAISE FROM
CARI E GUITTARD
- EXECUTIVE MBA PROFESSOR AT
HULT INTERNATIONAL BUSINESS SCHOOL
This is how you future-proof your business. If you care about the drivers of growth, innovation, and creativity in your organization you MUST read this book, the latest from D&I expert, thought leader, and impact generator Toby Mildon. I first started working with Toby in advance of teaching my grad course on
Organizational Behavior
at Hult International Business School. Toby gave one of the most inspiring guest lectures I have ever witnessed. He took a massively complex concept - diversity & inclusion - and made it clear, accessible and actionable, sharing a number of his proven frameworks and tools. I knew then we were all experiencing something extraordinary which is how all his clients must feel. The book is packed with Toby's wisdom, tools, insights and a laser focus on how to truly harness inclusivity for growth. It should be required reading for anyone in global business, serving on boards and leadership in every organization.